Janet Williams, B.D.S., D.D.S., M.P.H., FICOI.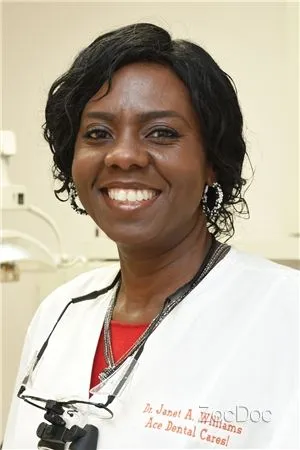 Dr. Williams is a graduate of Columbia University, one of the best in the country, from where she received both her dental degree from the School of Dental & Oral Surgery and a Master's Degree from the School of Public Health. She went on to complete her residency at Montefiore and Bronx-Lebanon Hospital Centers. Dr. Janet Williams has over 30 years of experience practicing dentistry and has been in private practice on Long Island since 2001.
Dr. Williams continually keeps abreast of the ever changing world of Dentistry by ongoing participation in continuous education courses in different fields of dentistry. Her emphasis on patient comfort as well as keeping up-to-date with the latest advancements in dentistry enable her to provide her patients with the best quality of care in the field. Dr. Williams has a wide range of experience in different areas of dentistry, from cosmetic and restorative dentistry to surgical treatments.
Her approach to your treatment starts with patiently listening to you. Then, after a complete and thorough examination, she reviews and discusses the diagnosis and treatment options with you. At Ace Dental Care P.C., Dr. Williams sees patients for a variety of dental needs, ranging from General Dentistry (cleanings, fillings, root canal treatment, extractions, dentures) to Cosmetic Dentistry (veneers, cosmetic crowns & bridges) & Teeth Whitening, Invisalign, Oral Sleep Apnea appliance, and Dental Implants.
Dr. Williams takes pride in placing an emphasis on educating her patients about their oral health issues, dental needs and treatment options, thereby motivating her patients to take charge of not only their oral health but their overall health. She uses advanced State-of-the-Art equipment to render services in a clean, calm and comfortable office.
Dr. Williams is deeply committed to the well-being of her patients. She looks forward to continuing to provide her patients with the best in dental care, and welcomes patients and families of all ages from babies to seniors.
"I am proud to provide my patients with the best in dental technology, treatment options and patient comfort. It is my pleasure to address all your questions and concerns."

Thank you and see you soon!

Dr. Janet Williams.